Cryptocurrency Exchange Cryptopia Hacked
Cryptocurrency exchange Cryptopia announced via a tweet that they were hacked on January 14, 2019. The tweet does not go into detail about how it happened or how extensive the damages were and only explained it as "significant losses".
Cryptopia is a relatively small New Zealand based exchange dealing with only about US $1 million in daily trade volume. By comparison, larger cryptocurrency exchanges like Bitfinex trade over US $100 million in volume daily.
Cryptopia's tweet goes on to say they have alerted the appropriate authorities including the police and "High Tech Crimes Unit". While the hack is being investigated the site remains down in maintenance mode and the team promised to keep their users updated frequently.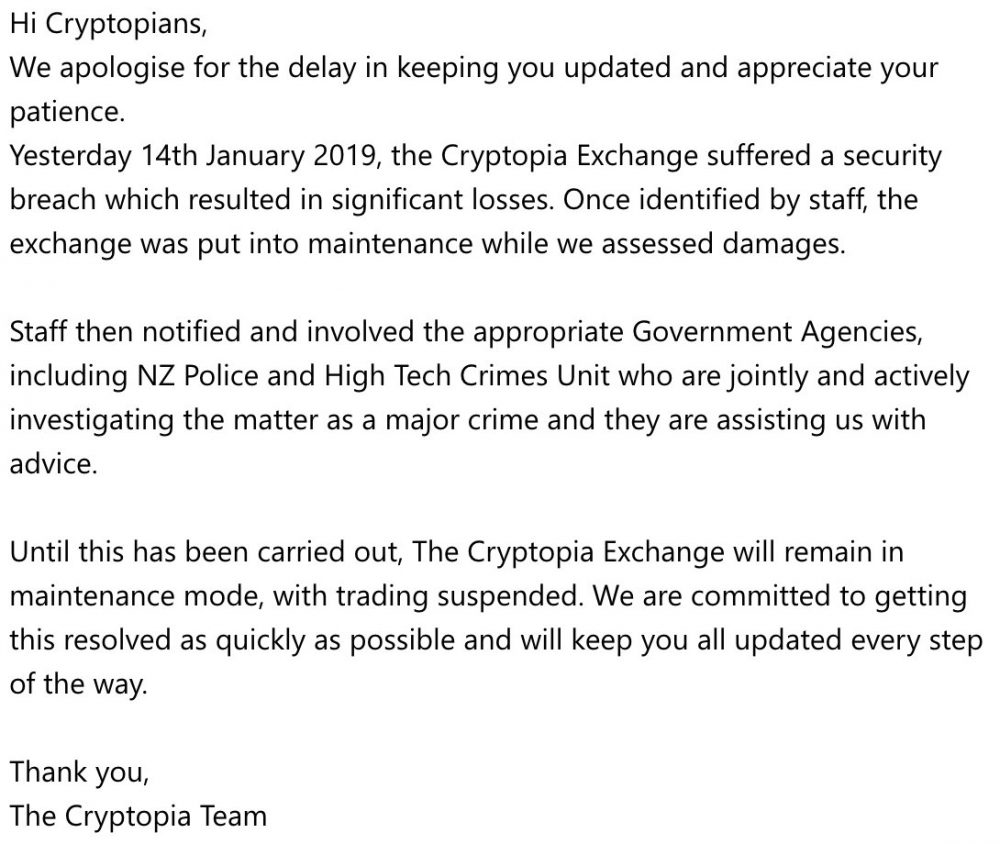 Interestingly, the fledgling cryptocurrency company tweeted about the hack in an image instead of text. This is likely an effort to prevent web bots from indexing the content as text and negatively affecting their search engine ranking.
This is not the first time Cryptopia has had difficulties. Throughout 2018, many users of the platform complained about the inability to withdraw their cryptocurrency. This, along with the exchange's low volume, have lead some Twitter users to speculate that the hack was an inside job or an exit scam. That remains to be seen in the upcoming weeks.
The cryptocurrency markets remain relatively unaffected by the news. Bitcoin is trading down $32 from the daily open of $3,664. The Bitcoin bear market may not be over yet and as it continues more people will come to the understanding that alts are irrelevant and are very likely to collapse entirely. As a result, Cryptopia will have to do a lot of patching with their users in order to keep the little relevancy it has left into the future.